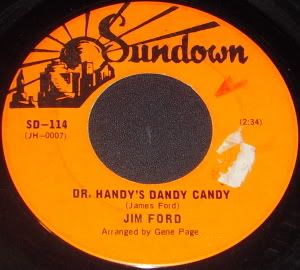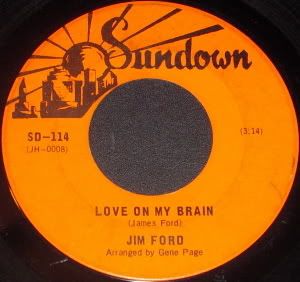 Jim Ford recorded his phenomenal album
Harlan County
in 1969 on White Whale records, alongside a handful of singles, and then fell more or less into obscurity for nearly four decades. His music combined the best elements of 60s southern rock, funk, soul, and country and his writing and arrangement abilities makes you question why he wasn't an immediate legend. The album was all but forgotten until Bear Family records re-released the album with extra tracks in 2007. A reunion gig was planned but Ford passed away before it happened, and Bear Family released another album of previously unreleased material a few months later.
These two tracks are from
Harlan
County and are both absolutely great. "Dr. Handy's Dandy Candy" is a fast paced, swampy, psychedelic rocker. One of the things I love about this song is the crafty production. The powerful rhythm stays constant throughout, but different instruments fade in and out nicely to create a constantly changing sound. Maybe thats not the clearest description but check out the first 20 seconds or so - every 16 bars, the instrumentation changes just enough. Great song.
The b-side, "Love On My Brain" is more laid-back but is still as soulful and funky as you could hope for. Once again, the arrangement is top notch, the strings and horns fit in perfectly, and his guitar overlays are perfectly subtle. These are two great tracks, and are just a snippet of what's on the rest of the album. So, if you ever come across it, make sure you pick it up!
Listen and download here:
A-side:
Jim Ford - Dr. Handy's Dandy Candy
B-side:
Jim Ford - Love On My Brain