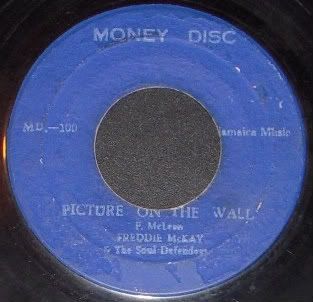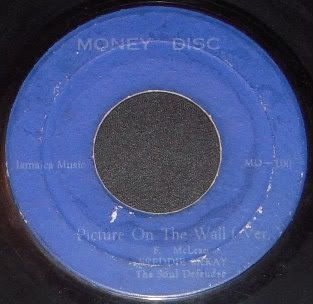 Freddie McKay comes as one of Jamaica's most soulful singers. He began his recording career with Prince Buster in 1967, had a stint with Duke Reid, and shortly after began a long stay with Sir Coxsone Dodd on the boards. This label, Money Disc, was one of Coxsone's subsidiary labels and as such, this track of course has the Studio One headman providing the production.
"Picture On The Wall" was the title track to Freddie McKay's first full length album in 1971. He had already garnered an audience with a string of singles before this release such as "Fine Fine Fine," "Love Is A Treasure," and "Sweet You Sour You." This one garners a heavy reggae syncopation and McKay's strong soulful vocals throughout. The version on the b-side is pretty simple, basically the exact same track minus some of the verse vocals. Unfortunately, there is nothing fancy to be found there. I first heard this song covered by Carl Dawkins with the Wailers on the Upsetter label, which is a great track as well - well worth looking out for.
McKay continued his recording through the 70s and 80s until he died of a heart attack in 1987.
Listen & download here:
A-side:
Freddie McKay - Picture On The Wall
B-side:
Freddie McKay - Picture On The Wall (Version)