I updated my
for sale page
! Also, expect to see more records added to the list over the next few months!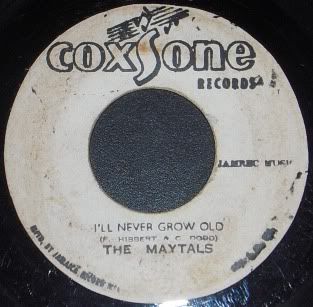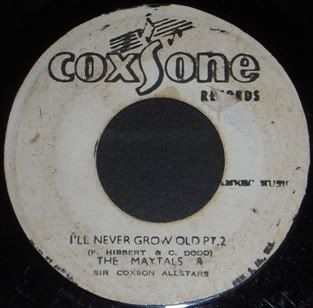 This posting marks the first in this decade set that is produced by one of the original sound system bosses, Sir Clement "Coxsone" Dodd. While some of the business-oriented producers of early ska music pushed more commercial music that they believed would sell internationally, the sound system men were spreading Jamaica's ghetto music. Unlike their business counterparts, these sound system names like CS Dodd and Duke Reid would grow to become synonomous with reggae music. Coxsone perhaps stands above the rest though. A search for his productions in the Roots Knotty Roots database returns 3433 tunes - and this is ONLY tunes released on 7", so it doesn't include most full length LP tracks or even some of the rarer singles. For comparison, other major names come in with the following marks -
Duke Reid
- 935,
Bunny Lee
- 1551,
Prince Buster
- 847, and
Lee Perry
- 1104.
The Maytals are no small name either. They were one of the few Jamaican names that would grow to mega international stardomn among names like Bob Marley and Jimmy Cliff; they would do so, however, under the more familiar psuedonym Toots & The Maytals. They began their recording career in 1963 with Coxsone, who would license most 63 shots to the Chris Blackwell's UK-based Island label. Most of these Island releases, however, would have the artist listed as "The Vikings." Over the next few years, the Maytals would hook up with other big name producers such as Prince Buster, Lindon Pontinger, and Leslie Kong, with whom they would have quite a long stint.
This song is in the traditional ska style of 1963. You can hear that the Jamaican groove has certainly taken over from the US r&b that dominated Jamaican recordings in the previous years. Hibbert's hollering style is in full force hear and in their first year as a recording act, The Maytals sound like well seasoned musicians.
This release is actually form 1977. The a-side was the version released in '63, but it was originally released on a different label - "Rolando & Powie" - one that I don't think I've ever seen. This rerelease has the "part 2" on the b-side which is a dub version of the tunel or atleast the closest that ska can get to dub. As the dubbing techniques of the later 70s and early 80s grew in popularity, Dodd began rereleasing some older tunes with small edits that reflected the remix's era. For instance, I recently bought a rerelease of Delroy Wilson's LP, "Feeling Good All Over." This rocksteady LP was rereleased by Coxsone probably in the 90s in his New York distribution center and has all the original tunes and artwork, but some of the tunes end with vocal cutouts and dub-inspired reverbs that epitomize the era.
Coming up next, 1964!
Listen & download here:
A-side:
The Maytals - I'll Never Grow Old
B-side:
The Maytals - I'll Never Grow Old, Part 2