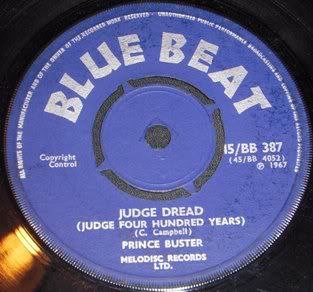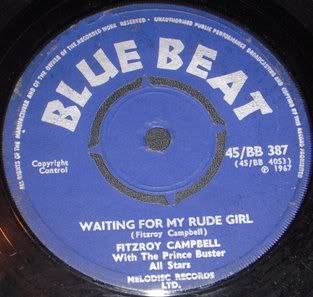 This is another one that comes by request. The request was specifically for the b-side here, performed by Fitzroy Campbell. Buster's real name is Cecil Campbell, and as you may guess, Fitzroy is his brother... that's one way to get in to the music business, right? Being brothers with the producer? Anyway, the track is a pretty cool one, and the a-side is another part of Buster's 'judge dread' series that I had previously posted about with his "
The Barrister (The Appeal)
" track.
As I had written up in the "The Barrister" posting, Prince Buster put out a series of records condemning the rude boys of the 60s. Rude boys were basically the street level criminals of the day that robbed and used violence to get what they wanted and build a reputation. Buster spoke out against the increasing trend of youth heading in that direction and in the judge dread series, he plays the part of a judge handing out sentences to these rude boys. You'll recognize the rhythm track for this a-side as the same as on "The Barrister" and the vocals are quite similar as well.
For the b-side, I'm not entirely sure what to imagine a 'rude girl' as but I can offer a guess. The rude boys were generally from the lower class, so I guess the rude in 'rude girl' refers to this. From what I have read, I don't picture their being much of a violence aspect in the reference to rude girls. The lyrics for "Waiting For My Rude Girl" are more or less taken from an earlier recording by Lee Dorsey titled "Ya Ya." Dorsey was a US R&B singer and that version of the song reached the Billboard Hot 100 in 1961.
Like I said, this one comes by request. This is the 2nd Buster record I've posted but I don't really feel like either of the two records really showcase Buster's reggae prominence. I promise more Buster on the way, and the next one(s) will be straight rocksteady from The Prince!
Listen & download here:
A-side:
Prince Buster - Judge Dread (Judge 400 Years)
B-side:
Fitzroy Campbell - Waiting For My Rude Girl