Today marks the blog's 1st birthday hoooooraah!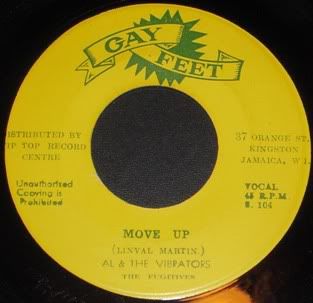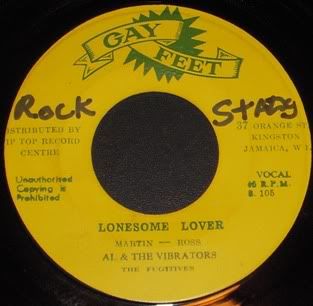 Yep, that's right. One year ago today I posted 3 records -
Sam Cooke's "I'll Come Running Back To You,"
The Wailers' "Dancing Shoes,"
and Guitar Slim's "The Things That I Used To Do" - marking the beginning of Dave's Jukebox. Unfortunately, the Guitar Slim posting has since been deleted by the host.
In the past year, the blog has grown to 7000 hits with thousands upon thousands of tunes played. I started the blog with about 40 reggae 7"s and about 75 rock/r&b 7"s and have since bought over 900 reggae 45s and sold over 300. I've enjoyed keeping the blog going and collecting all the 45s so I have no plans on stopping anytime soon! As a bonus for everyone who's been listening, I'm including a 3rd track killer track on this one.
Anyway, this is a an absolutely FANTASTIC set of tunes here by Al & The Vibrators. Better yet, they are in practically pristine condition. All are produced by Sonia Pottinger and released on the Gay Feet label. "Move Up" was prepared for the 1967 Jamaican Independence Festival annual song contest. This is a festival that began in 1966 and still occurs annually. "Move Up" lost the 1967 contest to The Jamaicans' "Ba Ba Boom," but this still easily is one of my favorite rocksteady tunes. The rhythm is unforgettably powerful and Linval Martin's lead vocal is immaculate. He would only release a handful of singles as Al & The Vibrators and would go down as a band that you'd hope to have a more extensive career.
The lyrics celebrate the Jamaican independence from England in 1962, a common theme for festival songs. This tune was also cut as a calypso version for a 2nd entry the same year. The calypso version was actually the first I heard of the song and features the same tempo and strong vocals. I've got the 7" of that one too, so I'll be sure to put it up!
"Lonesome Lover" is another rocksteady scorcher that's in great condition. Linval Martin continues to show his voice off and the band does not fail to keep up. The 3rd song on the playlist is "Check Up," and was released shortly after "Move Up." As you may guess, the two tunes are
very
similar, even sharing some of the same melodies. Even so, all three tunes are absolute killers. I wouldn't put up something mediocre on the 1 year mark!
Enjoy and thanks again for continuing to listen!
Listen & download here:
A-side:
Al & The Vibrators - Move Up
B-side:
Al & The Vibrators - Lonesome Lover
Bonus:
Al & The Vibrators - Check Up
Much thanks goes to
diamondrecordingltd
for selling me this one and sending me the mp3s of the auction I lost ("Check Up")!