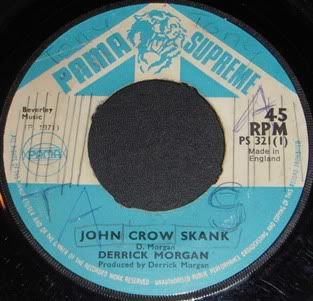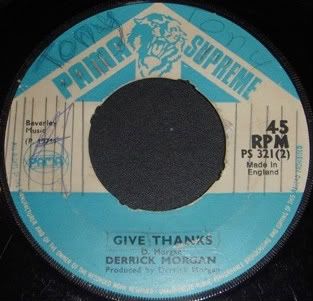 Derrick Morgan's career spanned all areas of Jamaican music from 1960 on as a both a popular singer and producer. This disc showcases both skills with two self produced sides from 1971 on England's Pama Supreme label.
The two sides are arguably closer to instrumentals or toasting tracks than they are to full blown songs but are certainly both worth listening to. "John Crow Skank" carries a funky groove and Morgan's directives. The instrumentation is pulsing with a sparse backing hidden underneath interjections by pianos, organs, horns, guitars, and more.
If you have been reading along with the posts, you may remember that
this Max Romeo
post was produced by Derrick Morgan. This b-side, "Give Thanks," features the same rhythm with Morgan's variation of the song. Compared to Romeo's version, Morgan's has more a powerful sound and instrumentation all around. It's also more of an instrumental take than Romeo's. I'm not sure which version I like more, enjoy!
Listen & download here:
A-side:
Derrick Morgan - John Crow Skank
B-side:
Derrick Morgan - Give Thanks